Heart of Australia is a program that embodies the most innovative approach to frontline specialist medical service delivery in generations.
Since 2014 we have been delivering specialist healthcare in rural and remote communities across Queensland on-board our five, custom designed clinics on wheels.
Our HEART Trucks are purpose built and self-sufficient trailers that offer first-rate medical facilities to meet the needs of patients across a range of specialist fields such as cardiology, endocrinology, neurology, gynaecology and more recently radiology.
For all media enquiries please contact Leisa@heartofaustralia.com
The service:
Heart of Australia began delivering mobile specialist healthcare in 2014 and is the brainchild of Brisbane-based cardiologist Dr Rolf Gomes.
The service delivers specialist consultations and testing to over 30 rural and remote communities across Queensland, including a static clinic in Palm Island.
Patient appointments are held onboard our fit-for-purpose, clinics-on-wheels, known as the Heart Trucks. The fleet of five Heart Trucks have together travelled more than 830,000 kilometres, and saved patients the equivalent of 34 million kilometers in travel for specialist appointments, and saved 650 lives to dates.
Heart of Australia has seen more than 16,000 unique patients since first launching services in 2014
There are over 25 specialists delivering clinics on a monthly, bi-monthly, or quarterly basis. 
Heart of Australia delivers healthcare across 11 specialities, including cardiology, endocrinology, gynaecology and neurology.
HEART 5:
The fifth Heart Truck in the fleet, HEART 5, was launched in early 2022 and is home to the world's first battery powered mobile CT scanner.
It is capable of delivering comprehensive lung health screening programs and mobile radiology services through its specialised testing equipment, including a X-ray machine and CT scanner.
HEART 5 was built in collaboration with the Queensland government to deliver lung health services to former and retired mine and quarry workers in Queensland.
Heart of Australia works closely with our innovation partner Philips and delivery partner I-MED Radiology to deliver it's services to rural and remote communities across Australia.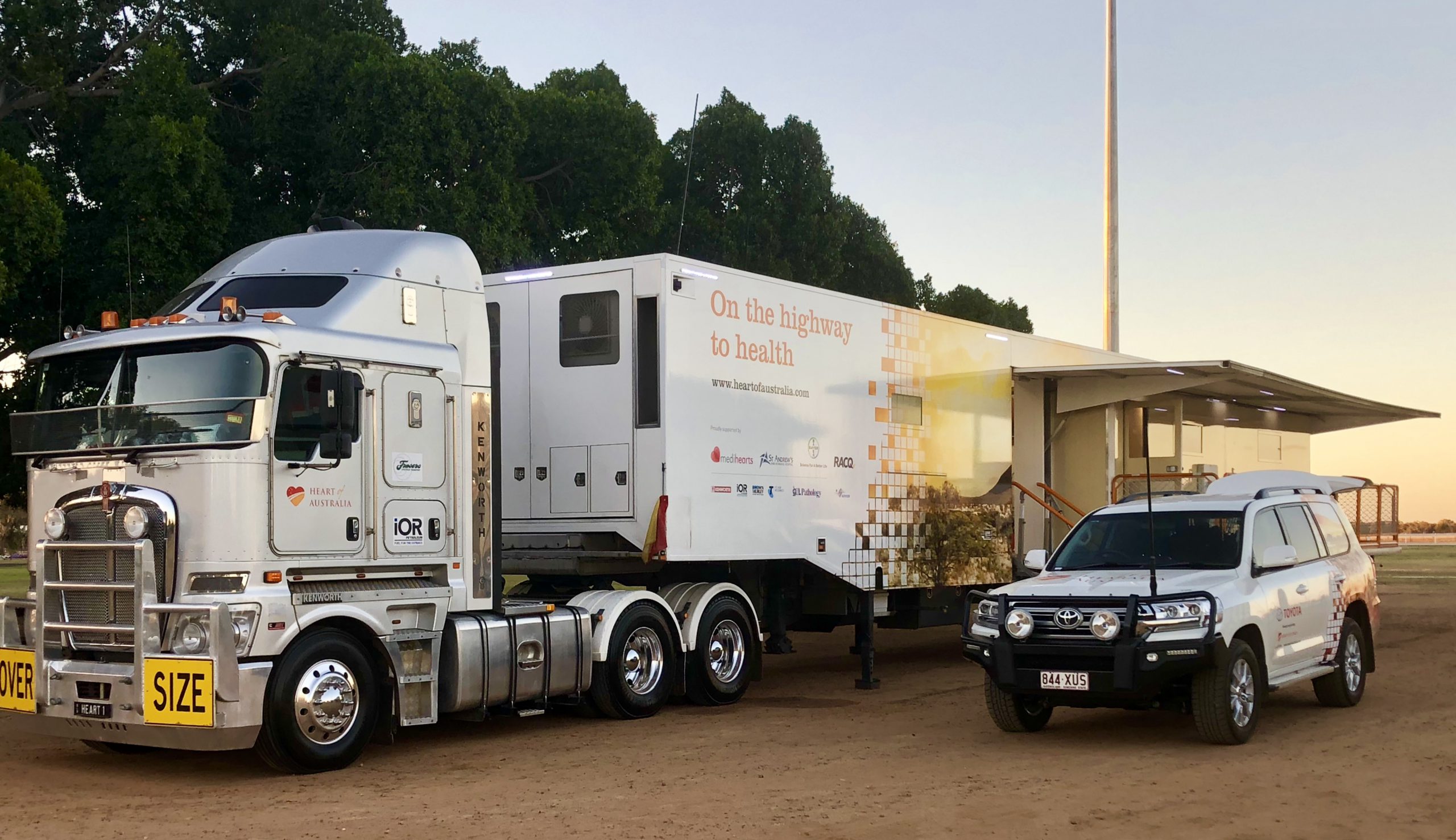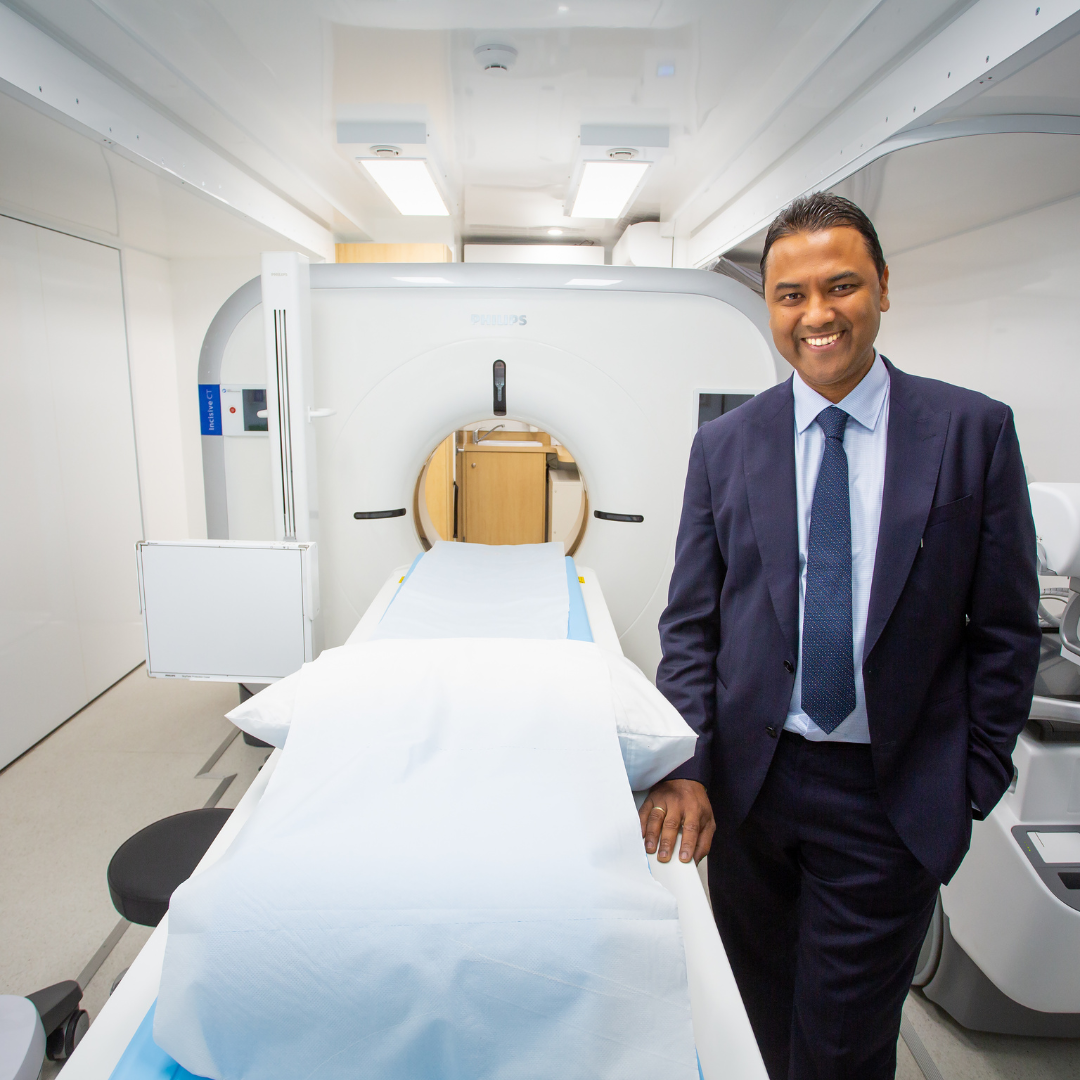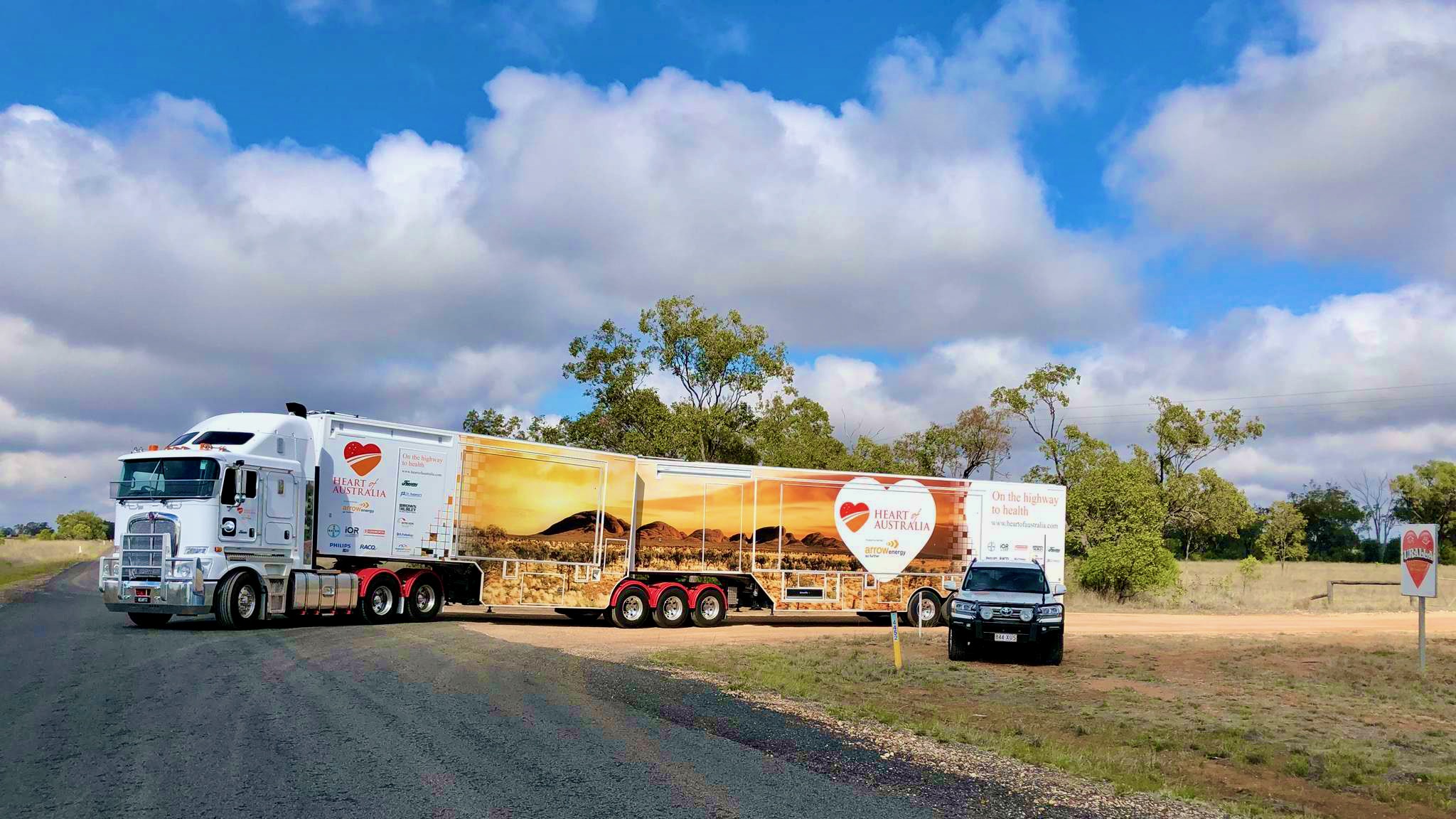 A note from our partners
FOUNDATION PARTNER
Arrow Energy
When Arrow partnered with Dr Gomes in 2013, we shared a vision to change the delivery of critical health care for regional Queenslanders. We are incredibly excited to be partners in a service that has expanded well beyond our expectations in our early years, borne from an idea and a PowerPoint presentation. The number of lives saved, the incredible kilometres travelled, and the commitment of all involved is an inspiration for companies seeking to leave a legacy within and beyond their communities.
MAJOR PARTNERS
Anglo American
Anglo American was pleased to support the expansion of Heart of Australia's critical medical specialist services across the Central Queensland towns where we operate, as part of our commitment to improving health care across the region for our people, their families, and their communities. It means these critical services are available to regional Queenslanders when, and where, they need them most.
IOR
IOR has been fueling Heart of Australia since the launch of the first HEART truck in 2014. With a strong connection to the communities in which Heart of Australia operates, IOR is proud to play a role in making essential medical services more accessible to Australians in the bush. We are excited to fuel HEART 5 on its mission to save lives and improve people's wellbeing throughout rural and regional Queensland.
PACCAR Australia
PACCAR Australia has proudly supported the Heart of Australia since its inception in 2014, providing two Kenworth K200 prime movers, HEART 1, HEART 2, and more recently HEART 4, a DAF XF 530 prime mover, to haul mobile medical clinics across regional Queensland. PACCAR is pleased to provide a fourth prime mover, HEART 5, another DAF XF 530 that will transport the newest purpose-built mobile medical clinic. Powered by a 530 horsepower Euro 6 PACCAR MX-13 engine, the DAF XF combines excellent fuel efficiency, safety, driver comfort and design – all the necessary attributes to deliver medical services to those in need in rural and regional Australia.
Toyota
Toyota has proudly been the official vehicle partner for Heart of Australia since 2018. We provide a fleet of support vehicles that ensures the safe and secure transport of critical medical supplies, specialists, and support crews to and from the HEART Trucks without the trucks having to leave their route. Dr Gomes and Heart of Australia are working to break the grip of distance that denies rural Australians access to services when and where they are needed most, and we are immensely proud to be a part of that work. Toyota looks forward to seeing HEART 5 change the lives of more rural communities.
PROGRAM PARTNERS
QML
QML Pathology has been proudly supporting Heart of Australia since 2016. As a company which also provides medical services to rural and remote areas of Queensland, it has been a pleasure to support a program that breaks the grip of distance to deliver specialist medical services to these communities. QML Pathology looks forward to continuing our partnership with Heart of Australia and seeing the positive outcomes of an additional custom-built mobile clinic in these areas.
St Andrew's War Memorial Hospital
St Andrew's War Memorial Hospital is proud to be an official sponsor of Heart of Australia – a program that takes capital-city levels of service and care to about 33 regional and remote communities across Queensland. Our partnership with Heart of Australia began in 2010 when founder Dr Rolf Gomes approached St Andrew's about bringing specialist cardiac services to regional communities on board a cardiology truck. Our cardiologists support the service, providing diagnosis, treatment, and follow-up for a range of cardiovascular and respiratory conditions.
Telstra
Telstra has been a proud supporter of Heart of Australia since its beginning in 2014. It has been wonderful to watch the growth of the service and to provide ongoing support through the provision of telecommunications equipment and services to keep the team connected while they are out on the road. We are so pleased to be able to continue this support and extend services to the new HEART 5 truck. Connecting regional customers with vital services is close to our heart and we commend the extraordinary work that Heart of Australia is doing in regional Queensland.
Bayer
Heart of Australia is breaking the grip of distance that denies rural and remote-area Australians access to services when and where they are needed most. Bayer Australia, with its footprint in health and agriculture, is dedicated to providing more people in underserved communities in Australia and around the world with access to health care.  As part of this effort, our company has been a supporter of Heart of Australia since 2014, providing funding and expertise to help this organisation develop and expand across remote and rural parts of our country.
Boehringer Ingelheim
At Boehringer Ingelheim we stand by our goal: to turn patient-focused innovations into life-changing treatments for both humans and animals – sustainably and for generations to come, not just for today. That's why as an independent, family-owned company, we take a long-term perspective. As the exclusive partner of the NextGen Medics program, we are proud to support rural health and vulnerable communities while building the healthcare workforce of the future.
HEART 5 PROJECT PARTNERS
The following partners have been instrumental in enabling Heart of Australia to expand our services into the area of mobile medical imaging.
RSHQ
Resources Safety and Health Queensland have partnered with Heart of Australia to deliver this important health service. HEART 5 will provide Queensland's regional mine and quarry workers greater access to a range of high-quality medical examinations. Our commitment to the prevention and early detection of mine dust lung diseases will ensure better health outcomes for Queensland's regional mine and quarry workers.
Philips
The innovative mobile CT technology will help make reliable screening and diagnostic services more accessible to underserved communities in Queensland, allowing for earlier detection, diagnosis and in turn, treatment pathways. Strong partnerships are key to addressing the complex challenges in expanding access to care and through our collaboration with Heart of Australia, we're able to provide meaningful solutions that improve health outcomes for Australians.
I-MED Radiology Network
I-MED Radiology Network is Australia's largest diagnostic imaging network, offering medical imaging and radiology services including x-ray, PET, CT, MRI, nuclear medicine, ultrasound, mammography, and interventional procedures.  Our national network of 250 clinics are located in metropolitan as well as many regional and rural communities across Australia.  We are excited to partner with Heart of Australia to provide high-quality imaging services to remote and rural communities in Queensland.
PROGRAM SUPPORTERS
Bridgestone
Bridgestone keeps Heart of Australia rolling.  Leading tyre company Bridgestone continues to proudly support the Heart of Australia program. Through tyre supply for the organisation's trucks, trailers and support vehicles, Bridgestone keeps Heart of Australia on the highway to continue connecting regional communities with specialised healthcare. Bridgestone's commitment to the Heart of Australia program is part of its global CSR initiative, Our Way to Serve, which focuses on making contributions to society that enhance mobility, connect people, and strengthen environmental stewardship.
Rex Airlines
Rex Airlines has been connecting regional Australia for more than 60 years, with a legacy dating back to Hazleton Airlines and Kendell Airlines, which were merged to form Rex in 2002. With our heart strongly in the country, we are dedicated to providing passengers with safe and reliable air travel, heartfelt country hospitality, and competitive fares. Rex operates to over 60 destinations around Australia and is extremely proud to have partnered with Heart of Australia since 2015 to bring much-needed specialist services to remote, regional and rural Australia.
Brown & Hurley
Brown & Hurley has proudly partnered with Heart of Australia since its inception, providing parts and services to all the trucks in the Heart of Australia fleet. Our years of dedicated service to the trucking industry have given us a great appreciation, understanding and knowledge of the harsh Australian environment that these trucks must endure to deliver lifesaving services to remote communities. Our nine branches reach from Port Macquarie to Cape York, allowing us to support this impressive fleet. Congratulations to Dr Rolf Gomes and his team on the expansion of these world-class services into mobile medical imaging.
Janssen
At Janssen, we're creating a future where disease is a thing of the past.  We're working tirelessly to make that future a reality for patients everywhere by fighting sickness with science, improving access with ingenuity, and healing hopelessness with heart. Janssen Australia and New Zealand are proud to continue our partnership with Heart of Australia and celebrate the launch of HEART 5 – ensuring patients in regional and remote Queensland have greater access to specialist care, including screening for pulmonary arterial hypertension (PAH).
Frasers
Frasers Livestock Transport proudly continues to support this vital health service to people of rural and regional Queensland and we are thrilled about the expansion into mobile medical imaging that the launch of HEART 5 will bring.
Abbott
Abbott is creating the future of cardiovascular health. Our 103,000 colleagues serve people in more than 160 countries.  We invest in breakthrough innovations in coronary, cardiac rhythm management, electrophysiology, vascular and endovascular; and the most comprehensive portfolio of structural heart solutions – spanning a wide range of life-changing technologies to address patient needs at every stage of living. As a passionate, committed, and innovative group of people with a fresh perspective, we work with partners such as Heart of Australia to achieve successful outcomes and empower lives filled with potential.
NTI
As Australia's leading specialist insurer, NTI knows that when people are at their most vulnerable, it's critical that they have immediate support from a strong, stable, reliable, and experienced organisation. That's why we're proud to partner with Heart of Australia and provide premium, specialist insurance and assistance products that enable Dr Gomes and his team to provide their invaluable service to even the most remote Australian communities.
Medtronic
We lead global healthcare technology and boldly attack the most challenging health problems facing humanity by searching out and finding solutions. Our Mission — to alleviate pain, restore health, and extend life — unites a global team of 90,000+ passionate people. Powered by our diverse knowledge, insatiable curiosity, and desire to help all those who need it, we deliver innovative technologies that transform the lives of two people every second, every hour, every day. As we partner with Heart of Australia, expect more from us as we empower insight-driven care, experiences that put people first, and better outcomes for our world. In everything we do, we are engineering the extraordinary.
Rabobank
Rabobank is the world's largest food and agribusiness bank. Our purpose is to help our clients feed the world more sustainably, supporting the innovative farmers and agribusinesses who put food on our tables every day, to grow more with less. Through our Rabo Community Fund we are committed to promoting the importance of the agri industry and the health and wellbeing of Australia's rural communities. In Heart of Australia we found a great partner to achieve this goal together.
Heart of Australia is proudly supported by: